Stark Exterminators' Joe Thomas Inducted into the Georgia Pest Control Association Hall of Fame
Atlanta-based Arrow Exterminators, parent company of Stark Exterminators is proud to announce that Joe Thomas, Chairman of the Board, was inducted into the Georgia Pest Control Association's Hall of Fame at the association's annual Winter Conference in Athens, Georgia on January 11th, 2017.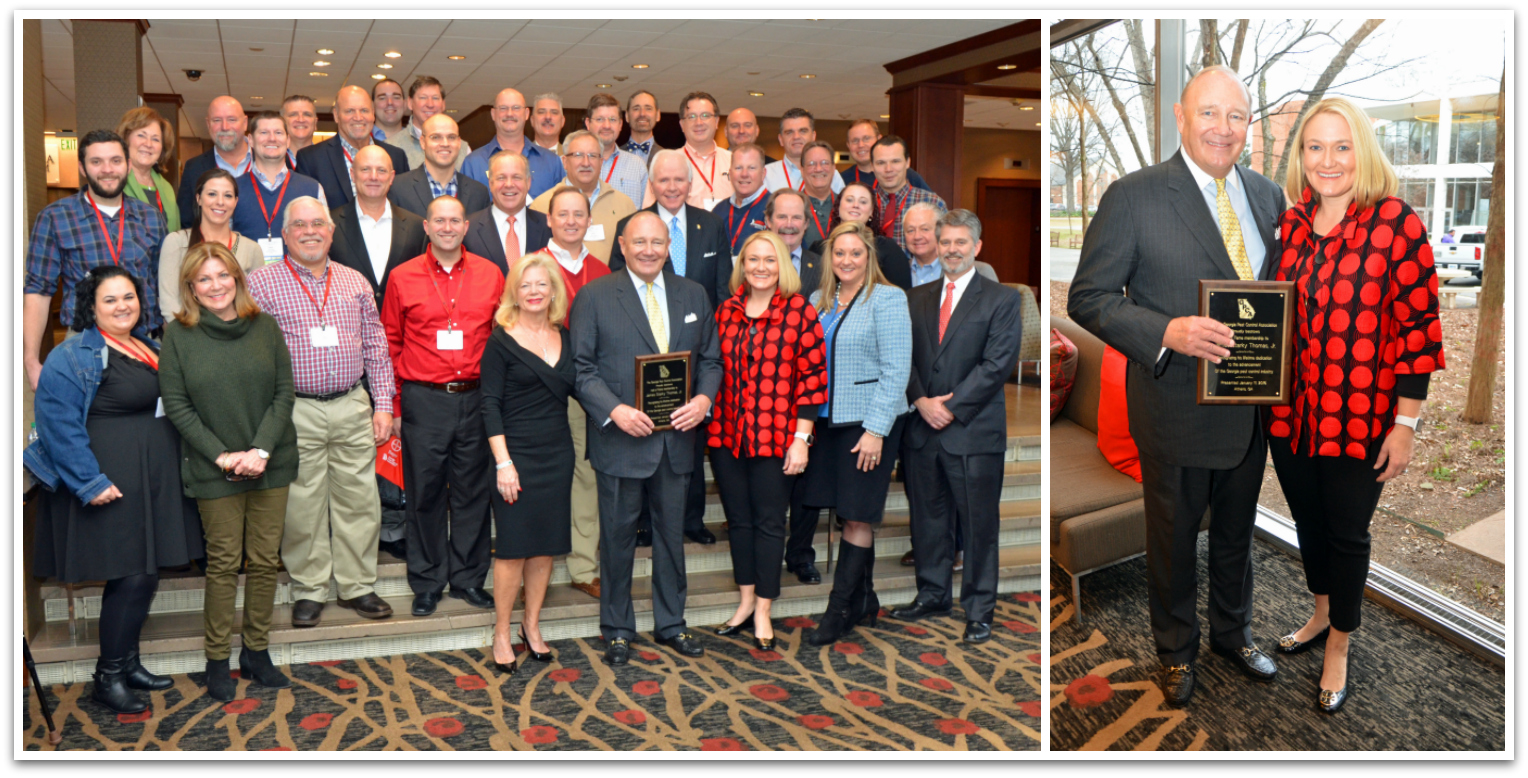 The Georgia Pest Control Association (GPCA) Hall of Fame represents leaders in the pest control industry who have dedicated their career to helping grow the integrity and professionalism of the industry. "Joe has always believed in giving back to the industry." Stated Tim Pollard, Senior Executive Vice President and Chief Operating Officer for Arrow Exterminators. "From the very beginning when Joe "officially" entered the industry in 1972, Joe served in leadership positions at the local and national level and continues to serve on the board of Professional Pest Management Alliance (PPMA) and was one of the founding members of PPMA. Joe also continues to provide financial and personnel support to the Pest Management Foundation."
Joe's industry contributions have been vast but even more so has been the support he has provided to the more than 1750 Arrow team members. Whether it is supporting the Guardian Program with the GPCA, providing people and financial resources for Professional Women of GPCA, or Arrow's development of the Million Dollar Club on a national level, Joe has always believed in giving back to the industry. Even today, we see the strength in numbers that are represented on behalf of Arrow and this support exists at each state Arrow participates in, especially at the national level.
"My Dad is not one to discuss his own achievements which as you can tell are many," stated Emily Thomas Kendrick, daughter of Joe Thomas and President and CEO for Arrow Exterminators. "Dad's leadership and vision throughout his 45+ year career at Arrow has led Arrow to become the 6th largest pest control company in the United States and he continues to lead us and inspire us at Arrow as Chairman of the Board and Owner. It is an absolute privilege to work alongside him every day."
Today, Arrow's vision of becoming one of the largest privately held pest control companies in the nation is clearly within reach. Arrow remains dedicated to fulfilling the dreams that Starky and Jean Thomas had when they began the journey over 50 years ago. Joe Thomas keeps this vision alive today with his passion and commitment to excellence.